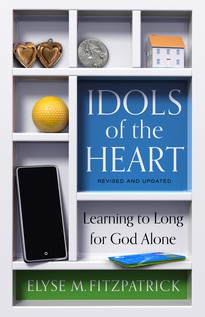 Since I first read Elyse Fitzpatrick's wonderful little book
Counsel from the Cross
(2009), I have been a fan of her work, and her heart that shines through her writing. I have since read many of her books and I have been a grateful recipient of her wisdom. So, I was understandably excited to see that P&R Publishing was releasing a revised edition of her book
Idols of the Heart
(2016).
Like so many of her books, Idols is filled with biblical wisdom shared from a seasoned counselors heart. Humans were created to adore and glorify God completely, but in the fall, our affections were divided. No longer did we cherish God as our supreme treasure. Rather, we began to seek after and, yes worship, other things.
Too often, Christians have a small view of idolatry. When we hear the word, what comes to mind is a small metal statue to which people pay homage. To be sure, around the world, there are still those types of idols. However, Fitzpatrick reminds us that idolatry is more all encompassing. Idolatry really deals with anything that takes away from God as our supreme treasure. On page 194-195, she wrote, "I hope that by now you've begun to identify the thoughts and desires that function as idols in your heart. Although they might seem godly, perhaps their prominence in your affections has made them idolatrous. Perhaps they are part of God's created order, but they've been distorted in some way; perhaps the world has told you that you cannot be happy without them; or perhaps, like Aaron, you've been frightened or enticed to to believe that a little idolatry, just in this case, is acceptable. But wherever these thoughts and desires have come from, if they've taken the place of God in your affections, they've got to go." So what is included? Status, relationships, money, comfort, power, activities; really anything that competes with God for your heart.
I fear that too few of us are aware of the depths of our idolatry. I catch glimpses of mine, though quite honestly, I am more deeply aware of the idolatry of others. We minimize it, or suggest that what's going on is not idolatry, but something else. We must pray for eyes to see our false worship and continually fall upon the grace of our savior Jesus Christ who saves us from ourselves.
On the whole, I am quite happy with this book. Fitzpatrick writes in the tradition of the puritans, which for those unfamiliar with them, that is a welcome attribute.
I received a copy of this book from P&R Publishing in exchange for this review. I was not required to write a positive review. The opinions expressed here are my own.