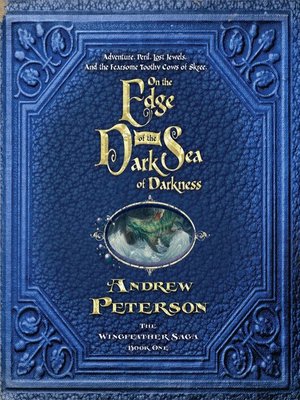 I have been a fan of Andrew Peterson's music for a number of years, but I was admittedly doubtful that his skill could translate to prose. I was wrong.
On the Edge of the Dark Sea of Darkness
(2008) is the first book in the Wingfeather Saga, which tells the story of three young children: Janner, Tink, and Leeli. The children live with their eccentric grandfather Podo and their kind mother Nia on the outskirts of Glipwood. Unfortunately, the town is overrun by Fangs of Dang, disgusting lizard-like creatures, who control the townspeople with fear.
It is not faint praise to say that I liked this book as well as I like Peterson's music. He developed his characters well, writing personality into even secondary characters. The book was humorous at times, suspenseful at others. Still, the unpredictability was my favorite part.
I cannot wait to read the rest of these books. And I cannot wait to read this one aloud to my children. If you are a fan of the Chronicles of Narnia or the Harry Potter series, you will not be disappointed with this book.