The NIV Ragamuffin Bible, published by Zondervan in 2013, is an NIV (2011) Bible with interspersed quotes, reflections, and devotions gleaned from the writings of Brennan Manning. Beyond the 66 books and Manning's words, this is a pretty bare bones Bible. There is a list of the books, introduction, preface, and table of weights and measures. At the end, there is also a list of references to where each of Manning's words came from.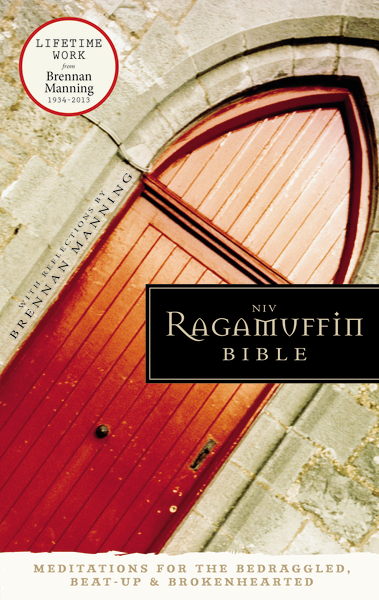 Much like Manning himself, I found this Bible difficult to categorize. It is not clearly a study Bible, nor a daily reading Bible. Perhaps the closest description that I could provide is that it is a meditational Bible. Manning's ideas and understanding of gospel truths shine through in each of his additions. Jesus figures big in Manning's thinking and on nearly every page, his focus on God's graciousness through the person of Jesus shines through. In one of the first reflections linked with Genesis 22:1-19 entitled "Testing", Manning wrote "Have you grappled with the core question of your faith, which is not 'Is Jesus God-like?' but 'Is God Jesus-like?' Do you comprehend that all the attitudes, values, qualities, and characteristics of my son are mine; that he who sees Jesus sees me, his father?" (page 25).
I find Manning enigmatic. I was reluctant to read anything he wrote for many years because he was one of those "mystical" Christians. Then I heard that the late singer Rich Mullins was deeply moved by him, so I decided to read The Furious Longing of God and I was drawn in. Manning painted a beautiful picture of Jesus that I could stare at for hours. There were times when I would find myself scratching my head in wonderment asking, "is that right?" Regardless, in reading that book and several others by Manning, I have developed a deeper appreciation for God's steadfast love toward me. This Bible, drawing from a lifetime of writing, helps the reader to see that grace as well.
The version of the NIV Ragamuffin Bible that was graciously sent to me by the publisher was a hard cover, with stock paper, and a dust jacket. From the Zondervan website, it appears that it is also available in an ePub format and an Italian duo-tone (which would be my preference). The paper and print is clear. It is presented in a 2 column format.

The typeface is small, but it contrasts well with the page, improving readability. My preferences would be for a single column Bible with sufficient margin space to be able to jot notes if desired. Having said that, the Bible is relatively easy to navigate and read.
The Bible is presented in the NIV (2011) translation. Growing up, my first Bible was a NIV (1984) translation, which to my understanding was the most commonly used Bible for many years. The publisher went through a period when they updated to the TNIV, which modernized much of the language, and in short order (I presume due to the lack of popularity), released the latest rendition of the NIV. I believe it is an improvement over the TNIV, but most people will remain most familiar with the 1984 version. One of my particular concerns is how they chose to translate certain verses, which may change meaning. For example, in the original NIV84, Psalm 8:4 was translated "what is man that you are mindful of him, the son of man that you care for him?" In the 2011 version, this was changed to read, "what is °mankind that you are mindful of °them, °human beings that you care for °them?"

My preferred version, the ESV, reads "what is man that you are mindful of him, and the son of man that you care for him?" You can see that ESV and NIV84 translate identically, whereas the newer version removes gender pronouns.
Overall, I would recommend this Bible. I believe it would be a good Bible to use for a daily reading program. The interspersed notes from Manning would add some additional insight into the gospel of grace and would provide the reader with a sense of Manning's writing. There are some subtle changes I would make to the Bible (larger margins, for example) and translation (perhaps the ESV) , but on the whole, this is a solid product from a respected publisher.

*The publisher provided me with a complimentary copy of this book through BookSneeze®