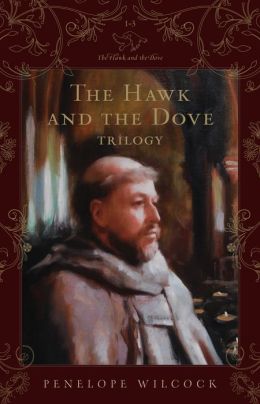 In the early 1990s, Penelope Wilcock first published the
The Hawk and the Dove
trilogy consisting of: The Hawk and the Dove, The Wounds of God, and The Long Fall. However, the edition that I read was published by Crossway in 2000 as a bundled trilogy.
The first two books in the series differ from the third in that they are cast as a type of story within a story. In each of the first two books, we are introduced to Melissa, who narrates the story. She is a teenage girl who lives with her parents and 4 sisters. However, her father and sisters play bit parts in comparison with Melissa and her mother. Melissa is drawn to her mother's character and is always eager to hear her mother tell stories about a 14th century Benedictine abbey in Yorkshire called St Alcuin's. The stories exposed Melissa to the day to day monastic life. Although the reader comes to know many different characters, the central character is Father Peregrine, the abbot of the monastery. The abbot was a man of deep conviction, wisdom, and love.
Although the third book continues to deal with St Alcuin's, there is a decided shift in the storyline. Melissa and her mother are not even mentioned in the third book; it is entirely focused upon the monastery. It also deals with suffering and compassion on a deeper level. Without giving too much away, as a neuropsychologist, Wilcock's presentation of an unfortunate neurological malady in the final book was thought provoking for me.
On the whole, this trilogy does a commendable job of discussing the love of Christ in relationship, showing what life on life may look like. Wilcock is an engaging writer and I found it difficult to put the book down. Despite her skill at writing, I was disappointed with the editorial work in the book that I read which included sentence fragments and incomplete punctuation, something I do not typically encounter with Crossway books. All in all, The Hawk and the Dove is a series I will gladly recommend.